CELEBRATE: 4 Steps to a "Sea-mless" Under the Sea Party
August 16, 2016 12:15
Looking for a seasonal theme for your child's summer birthday bash? It's the perfect time of year to throw an ocean-themed celebration! This bright, fun theme is super versatile and works well with boys and girls of all ages.
Planning a fun and memorable birthday party can be very stressful, especially for busy moms. Fortunately, we've put together 4 easy steps to help you streamline the party planning process to ensure that your beach bash goes "swimmingly!"
1) Invest in a Printable DIY Decorations Set
One of the most time consuming parts of party planning that'll really make a splash is preparing the décor. You need to be able to transform your party zone - by the pool or simply in your living room - into an underwater wonderland without too much headache!
A great way to do this is to invest in a printable DIY decorations set. Our Under The Sea Party decorations kit provides all you need to get preparations underway, including a festive party banner, party favor tags, water bottle labels, food table tent cards and lots more to create a sea-mless setup, brimming with bright, primary colors!
2) Browse Pinterest for Ideas
If you don't already have a board on Pinterest filled with party planning ideas, you should really make one. Pinterest is a great way to collect up a series of ideas that match your birthday bash's theme. Even better, most of the pins link to fantastic blog post tutorials with pictures you can follow. Here are a couple of our favorite clever food ideas for Under the Sea parties:
Serve snack foods, such as Gold Fish crackers and sea-themed gummy sweets, in little pails with shovels.
Whip up a beautiful ocean blue punch using only 1 gallon of Hawaiian Punch (if you can't find blue punch, just throw in a few drops of food coloring), 2 litres of lemon lime soda and 46 ounces of pineapple juice. It's just the right amount of sweet and incredibly refreshing when you're out in the sun.
3) Always have a Contingency Plan
While it's great to have a plan in place for your party, it's equally important to have a backup plan. If you're throwing your little one's birthday bash outdoors, there's always a possibility it might rain. Let's face it: no parent wants to be trapped indoors with up to 20 energetic kiddos and no game plan.
Thankfully, most party activities are suitable for indoors or outside with a little thought. And the beauty of downloading a DIY Under the Sea Printables kit is that you can quickly and easily print two birthday banners and two sets of place cards, just in case you need to move the party zone at the last minute!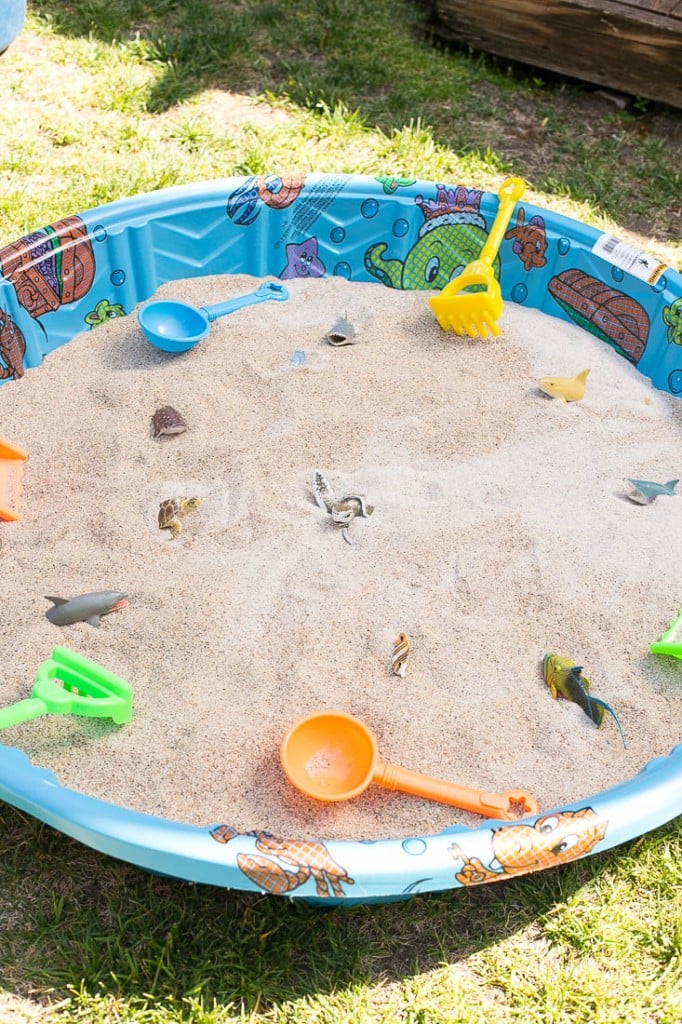 4) Make It Memorable
You want your little one's birthday bash to be memorable. The best way to do that is to be creative. Embrace the Under the Sea theme and let the ocean inspire your party games. Mommy Blogger Sara from Dinner At The Zoo created an awesome and budget-friendly sand pit for her daughter's mermaid party, using just a small wading pool (pictured above). To recreate this great idea, pick up some sand from your local home improvement store, then carefully bury treasures that any Little Mermaid would love (like plastic sea creatures, beaded necklaces and pirate's gold) for your adventurers to find.
Another way to ensure that this ocean party stays afloat is to send guests home with sea-themed treat bags. Fill your favor bags with ocean inspired toys, including bubble blowers, chocolate coins and gummy sea creatures, along with a 'thanks for coming' note. Don't forget to stick a matching label on every bag, especially if your favor bags aren't gender neutral. 
Keep these 4 party planning tips in mind and make a big splash with your Under The Sea celebration!